Come back to an independent Palestine, Abbas tells Prince William
Come back to an independent Palestine, Abbas tells Prince William
Mahmoud Abbas, the Palestinian President, recieved Prince William of Britain to Palestine and pledged a full commitment to make happen a just and lasting peace with Israel.
Prince William went on an official visit to a refugee camp in Palestine where he installed a musical fountain and listened to the music and partook of Palestinian cuisine.
Abbas said about achieving peace with the nation of Israel. "We want to reach peace through negotiations. This is our position which has not changed in a long time," he said.
"I hope that your next visit will be in the state of Palestine when we have our full independence," Abbas added.
He said the prince's visit will deepen and strengthen the friendly ties between the Palestinian and British people.
"We are always in need of the support of the British people for our just Palestinian cause," he said.
The visit of the Duke of Cambridge was described as a "postive visit" by Scott Anderson, director of UNRWA field operations, who took the Prince to visit places which include the refugee camp, girls school, health centre, women and children.
The visit of the Prince was well appreciated in several quarters.
Ahmad Abu Laban, the Ramallah city manager, said that the prince met with city's mayor and council and other Palestinian leaders.
"We were proud to host the prince after his meeting with President Abbas," the added.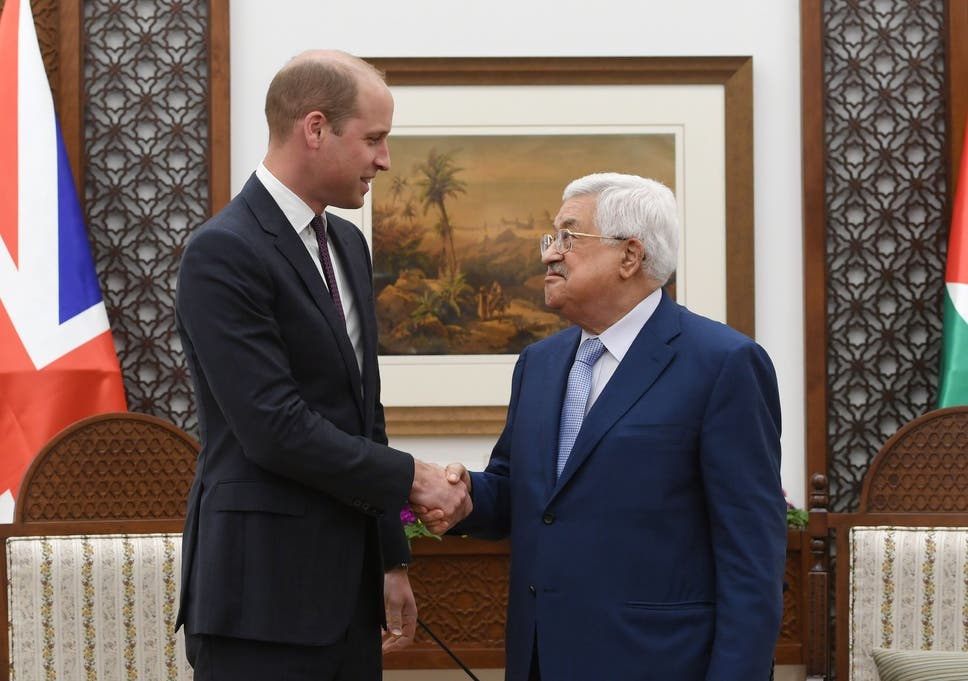 Prince William took part in a ceremony to open Ramallah's first musical fountain. Abu Laban said that after the official meetings, speeches and musical presentation, the British royal enjoyed Palestinian cuisine.
"He walked around our food fair enjoying falafel and kenafeh sweets, and engaging with the local community. He seemed excited and happy with the visit."
"It was the first time since 1800 for such a royal British visit," Abu Laban said.
"Even though the royal palace doesn't deal with politics, we are happy he referred to our future capital as the occupied city of Jerusalem."
The UK Consulate in Jerusalem was busy on social media. @UKinJerusalem tweeted that this is "the first official visit by a senior member from the Royal Family to the Occupied Palestinian Territories." It called the visit "a historic moment and a model of strong ties of friendship and respect between the British & Palestinian peoples."
The Prince is in Jerusalem as we speak as a continuation of his official visitation.