Russia parties as Spain shootout win keeps World Cup dream alive
Russia parties as Spain shootout win keeps World Cup dream alive
There was abundant joy in Russia as great celebration busted forth after the host nation's team booked a place in the quarterfinals after beating Spain.
The round-of-16 match ended 1-1 at the end of regular time which stretched the game to an extra-time.
The Russian team had done exceedingly well after surpassing expectations by qualifying for the knockout stage of the competition. Having beaten Spain, the fans are stirred up to believe their team can go ahead and win the world cup.
"This is unreal, no one thought it could happen. And now people are starting to believe," said Yulia Gordinskaya who had Russian flags painted on both cheeks.
"Of course we can win the World Cup! We just need a bit of luck," she said.
On a central Moscow square, a street orchestra erupted in a rendition of the Russian anthem as passing cars tooted their horns and men staggered out of a nearby bar waving Russian flags.
"This is a great victory for us, for the whole country, the soul of the country," Mikhail Sitner, 34, from Moscow, said.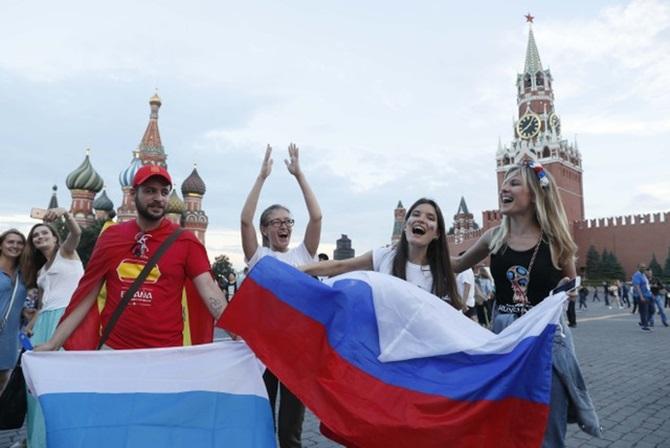 "Honestly, before the tournament I had very low expectations, everyone was just hoping to God that we would get out of the group stage. And then we drew Spain, I thought everything would end.
"This morning I was very nervous, but now it is time to celebrate."
Sergei Galunenko, 51, a construction worker, went further: "This is the birth of our national team, that's what this victory means for us."